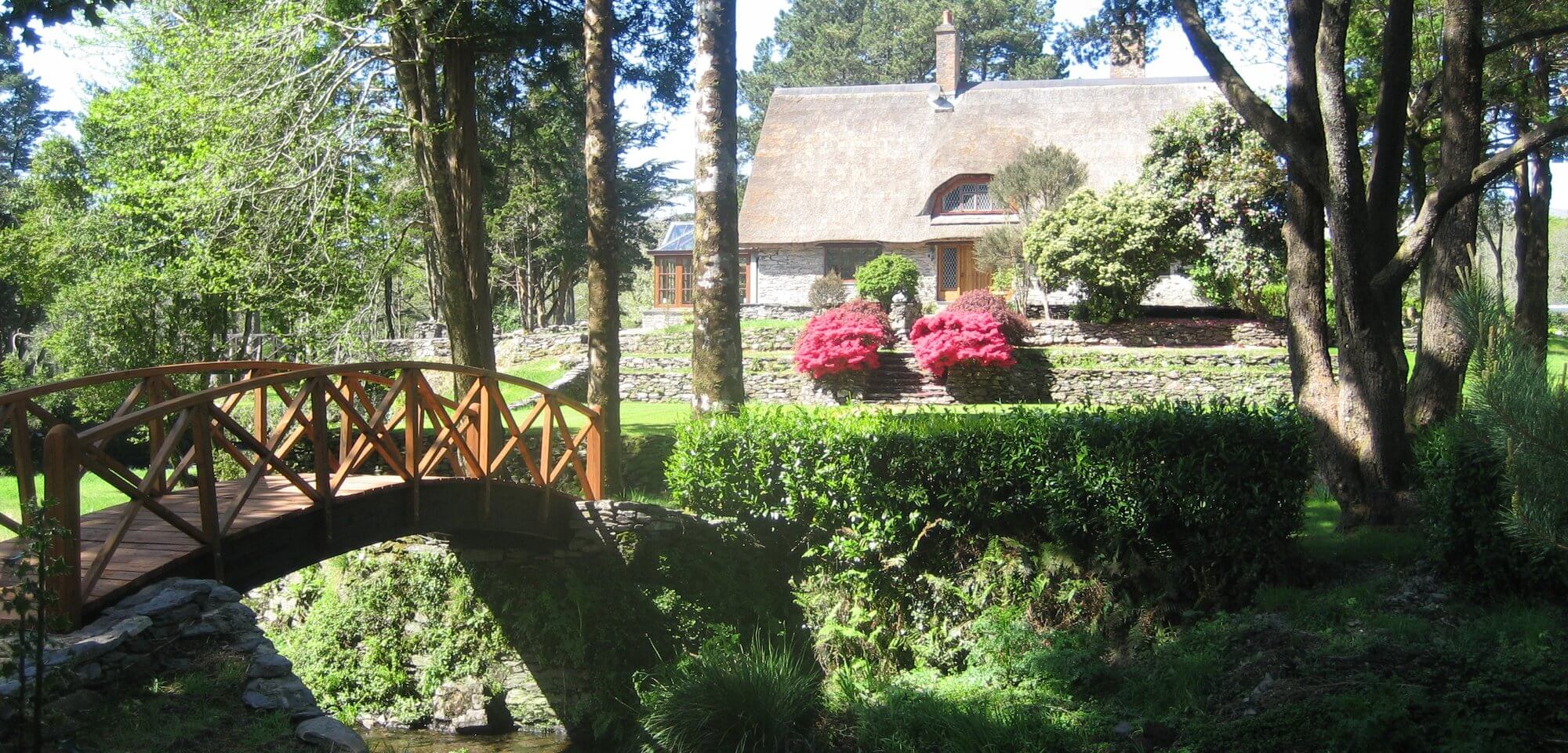 About Us
Glengarriff Lodge is situated two miles from Glengarriff village, the gateway to the Beara peninsula, one of Ireland's best kept secrets. With rugged mountains, breathtaking coastal scenery and pretty villages, there is much to discover in this interesting and historic corner of Ireland. Set dramatically on it's own river island in one of Ireland's last remaining ancient woodlands, Glengarriff Lodge commands stunning views across the most beautiful of landscapes. With the wildlife, the river and a host of majestic trees, the woodlands and gardens surrounding Glengarriff Lodge provide an ever changing and remarkable vista through all the seasons of the year.
The house itself is private oasis of calm and elegance. We have endeavoured to create a luxurious home from home, with all the modern touches, while preserving the historic charm and ambience. Each room has been carefully designed to make the most of the Lodge's architectural features, period furniture and magnificent views of the beautiful West Cork countryside. Glengarriff Lodge is that rare breed of house that has everything – exemplary luxury and design set in outstanding natural beauty.
You will find a warm welcome at Glengarriff Lodge. Our business is centred around luxury holiday rentals and bespoke weddings but it has also been our great pleasure to offer this unique and useful place for other purposes. The elegant, well equipped house and tranquil surroundings are perfect for many uses and over the years we have hosted various special celebrations as well as corporate events, concerts, workshops and retreats.
It doesn't take long to become entranced by this peaceful old place with its meandering river
Glengarriff Lodge with the surrounding gardens and woodlands are managed by the Yasin/Callender family, who have owned and maintained the lodge for three generations. This has been both a pleasure and a privilege, and at times a lot of hard work, but it doesn't take long to become entranced by this peaceful old place with its meandering river, ancient trees and moss covered rocks. Various family members and many friends over the years have cherished their time here, whether for short holidays or more extended stays.
Our family's involvement with Glengarriff Lodge began nearly fifty years ago when grandparents Brenda and Said Yasin were touring the area. They were invited to visit the Lodge by the owner at the time and, by an unexpected turn of events, found themselves the owners some months later. Glengarriff Lodge is now managed by Rosheen and Alan Callender with help from other family members. While Rosheen visits as frequently as she can, Alan lives with his family in another house on the estate. As a visitor, it will most likely be Alan who will meet you and help to make sure that your stay is a pleasant one.
In trying to build a successful business here at Glengarriff Lodge, one of our foremost aims has been to create a tastefully luxurious retreat while carefully respecting the natural heritage and beauty that we have found here. We think that we have been quite successful in this, but it is work in progress. Conservation projects in the woodland and gardens are ongoing and we hope to sustain these by encouraging others to enjoy and make use of the property. Whether it is for a wedding, family gathering or other celebration, or just for simple relaxation and privacy, we really hope that you will find something special here too.